Malas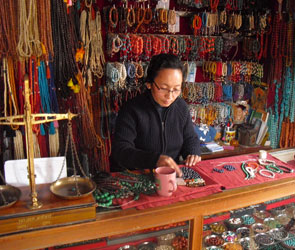 Malas are used in Buddhism to recite mantras, like here in the West a rosary is used to pray. Mantras are usually recited 108 times and therefore the malas contain 108 beads per necklace. When you have recited one round of mantras, you come to the so-called guru-bead which is the bead at the bottom. Here you turn the mala and you start reciting the mantras again.

The malas in this category are personally selected by Dakini and imported to the Netherlands. The malas are bought for a fair price. The rosary / mala necklaces and bracelets are made of wood, bone, seeds or glass beads.

All malas are handmade by a Tibetan / Nepalese Buddhist family business in Nepal. In the picture you see Cchering working on a mala.