December 2013 - The Dutch magazine Boeddha Magazine has written about us in their edition Winter 2013 on their page Worldly Findings.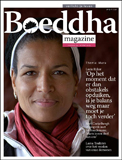 The recycled notebook set. You can find more information about Boeddha Magazine at: boeddhamagazine.nl

"Duurzame Notities: Tablets, iPads en laptops hebben het even een stuk efficiënter gemaakt, maar helaas vreten ze ook energie en vormen onze afgedankte mobiele apparaten een grote belasting voor het milieu. Voor wie zijn gedachten liever duurzaam en met pen en papier vereeuwigt, biedt deze eco giftset een mooi alternatief. De set bestaat uit een A5 notitieblok, een potlood en pen van gerecycled papier. Ook zit er een bamboe lineaaltje bij, een houten puntenslijper en een gum. En omdat je de schrijfbenodigheden kunt oprollen in de katoenen verpakking, krijgt het pakketje toch nog iets mobiels."